France Unveils Next-Generation Fighter Jet
FCAS will replace the Rafale as Europe's frontline fighter.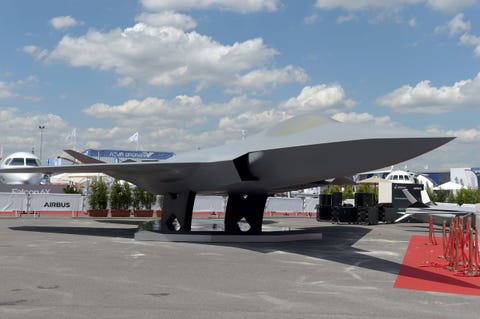 ERIC PIERMONT
Getty Images
French jet maker Dassault just pulled back the curtain on its vision for a sixth-generation fighter jet. The Future Combat Air System, or FCAS, is Dassaut's first clean sheet fighter design in four decades, following the 1980s-era Rafale. The aircraft, which is being designed in collaboration with European aircraft giant Airbus, will fly for the first time in 2026.
The fighter jet mockup was unveiled earlier today at the Paris Air Show. The jet features an elevated bubble canopy, promising excellent visibility to the pilot. It also has two engines and F-35-style air intakes. FCAS appears to have a cranked kite wing formation similar to the X-47B unmanned aerial vehicle. The cranked kite design broadens the fuselage, increasing the interior volume of the aircraft and allowing more room for internally stored fuel and weapons. FCAS also looks like it has a single set of low-angle stabilizers replacing traditional, separate horizontal and vertical stabilizers, making the aircraft even more stealthy.
FCAS will almost certainly be a single-seat only jet, as fifth- and sixth-generation fighters are expensive enough without having to develop one and two seat versions. A mockup of the cockpit, posted on Twitter, appears to show a digital screen that takes up virtually the entire space in front of the pilot, providing ample view of things such as maps.