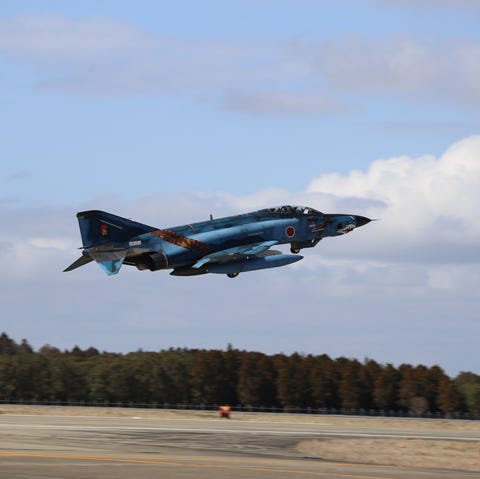 Japan shed a little bit of history this week as the last of the country's RF-4E/J Phantom II reconnaissance jets, part of a fleet that has served for more than 50 years, flew for the last time. The last six recon Phantoms flew for the last time on March 9, and the country will retire its entire Phantom fleet by the end of the year. Meanwhile, Tokyo is pursuing the development of a new fighter jet it will design with help from the U.S..
The six jets, part of the 501 Hikotai squadron, were RF-4 photoreconnaissance variants of the iconic fighter. The 501 Hikotai, based at Hyakuri Air Base north of Tokyo, was famous for adopting the American cartoon character Woody Woodpecker as its mascot, painting the bird on the squadron's vertical stabilizers. According to The Aviationist, which covered Monday's event, the squadron featured jets in three different camouflage styles, including Vietnam, European, and over water (above). Hyakuri Air Base also tweeted a series of gorgeous photos on Twitter:
The McDonnell Douglas corporation developed the F-4 Phantom II, a multi-role fighter jet, in the late 1950s. The large, twin-engine, two-seat aircraft was designed to handle both air-to-air and air-to-ground missions, and served with the U.S. Air Force, U.S. Navy, U.S. Marine Corps, and the air forces of eleven other countries, including Japan. In many respects, it was a precursor to the F-35 Joint Strike Fighter. The fighter is slowly fading from service worldwide, with only three countries still flying the "Phantastic Phantom": Japan, South Korea, and Turkey.