by Brent Smith:
Just a few things I thought I would point out as you read the following article.
The most glaring is the main stream media's response to what's happening, or not happening, at our Southern Border. As you read, just substitute the "Biden" administration with the Trump administration and imagine how different things would be. Imagine the press's reaction to DHS being ordered not to talk to the press or answer any questions.
Then just imagine the press accepting being told by a Trump administration that you may not accompany administration officials to a detention facility. Naturally they would claim that Trump is trying to prevent us from seeing "kids in cages." But the response from the press this time is nothing – crickets.
And finally, I ask that you take a good look at the picture Wisconsin Republican Senator tweeted of the illegal alien "stash house." Everyone is a young male.
Enjoy the article. Don't forget to take your blood pressure medicine. You may need it, just thinking of how rapidly the Biden administration has been able to dismantle all the progress made by Trump. It's disheartening at best.
from Zero Hedge:
Biden Admin Silences DHS Over Border Crisis As Viral Video Shows Flood Of Migrants Streaming Into Arizona
The Biden administration has told the Department of Homeland Security not to speak freely about the growing border crisis, according to Breitbart, which spoke with a "senior-level law enforcement source" within DHS who spoke on condition of anonymity.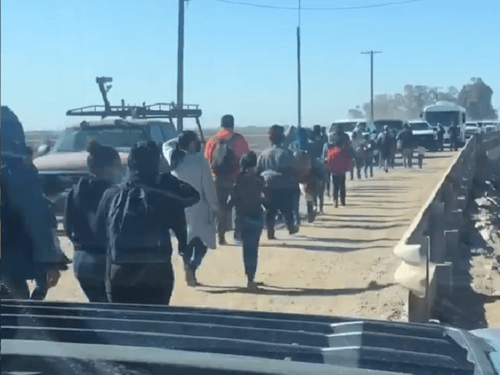 "The situation with media relations now is night and day compared to the last administration," said the official. "We have been advised not to speak on immigration issues at the border and to rely on DHS's Office of Public Affairs and the White House Press Office to handle messaging."
The verbal order applies to senior law enforcement leaders within DHS and has no formal expiration date. It comes as the administration is struggling to manage the growing crisis caused by changes in border security and immigration policies leading to a spike in illegal crossings at the border.

As local communities along the border continue to grapple with the release of migrants into their communities, the administration is facing criticism even amongst their own ranks, Breitbart reported.
The report comes after senior members of the Biden administration – DHS Secretary Alejandro Mayorkas and Susan Rice – visited several cities in Texas to observe the border crisis first hand. Members of the press were not allowed to accompany the officials' visit to Border Patrol stations and a Health and Human Services detention facility for unaccompanied minors.
According to a source familiar with the DHS media restrictions, the prohibition is designed "to prevent the imagery of overcrowded facilities from circulating."
Meanwhile, a viral video tweeted on Sunday by Sen. Ron Johnson (R-WI) reveals: "The tip of the iceberg near Yuma, AZ as immigrants begin to flood into the US responding to @JoeBiden 's open border, catch and release policy."