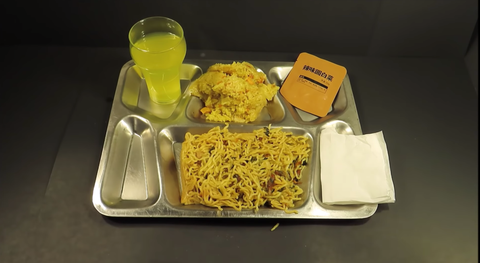 A YouTuber dedicated to reviewing soldier rations, past and present, has finally run into one pack of military chow even he can't eat.
Steve1989MREInfo has reviewed rations from the 19th, 20th, and 21st centuries, in conflicts from the American Civil War (believe it) to those feeding troops in Iraq and Afghanistan. He's reviewed scores of military rations from countries as diverse as the U.S., Russia, Spain, the U.K., South Korea, Belarus, France, New Zealand, Finland, Canada, Japan, Slovenia, and Indonesia. "Steve" has eaten it all…or tried to.
Steve has a clear methodology: he discusses the rations, revealing (and translating if necessary) their contents and nutritional content. He then unpacks them for the audience, lays out the contents on a stainless steel tray, and goes for it.
Steve will eat practically anything, including a 75-year-old chocolate he found in a Canadian Army ration and claims to be edible, even though it looks looks like a slice of ancient Spam. Steve has even eaten Civil War-era hardtack. He's found the diamonds in the pouch, too. The Slovenian Soldier Ration, Type C is "absolutely delicious" with "components of utmost quality" and "slammin' coffee."