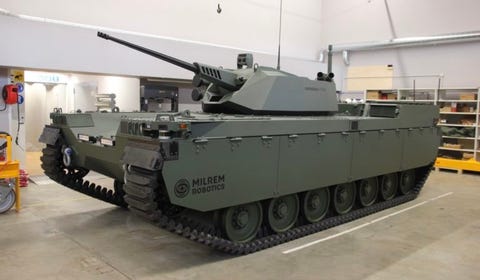 The Type X drone is a new robotic combat vehicle (RCV) equipped with either an 25 or 30-millimeter auto cannon or anti-tank missiles.
Inexpensive and semi-expendable, RCVs hold the key to the future of land warfare.
In the future, Army ground forces will consist of human/RCV vehicles and even some unmanned RCV formations.
A new unmanned ground combat vehicle represents the best look yet at the future of unmanned warfare. The Type X robotic combat vehicle (RCV) is a heavily armed, unmanned mini-tank that could act both independently and alongside manned vehicles. Cheap and easy to operate, unmanned combat vehicles like Type X are likely the future of armored warfare as manned vehicles grow increasingly expensive.
Milrem, an Estonian robotics company, introduced the Type X combat vehicle earlier this month. The Type X builds upon Milrem's experience with robotic combat vehicles, including the THeMIS multipurpose vehicle. Unlike THeMIS, which is more of a robotic mule, Type X resembles a scaled down main battle tank. Here's THeMIS in action, firing a .50-caliber machine gun in support of dismounted infantry.