The MQ-25A Stingray won't drop bombs or dogfight, but it will stretch the legs of planes that do.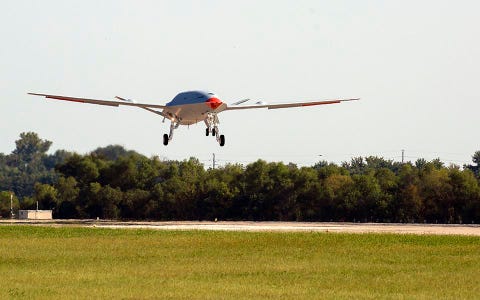 The MQ-25A will be the first unmanned aerial vehicle (UAV) to be stationed on an aircraft carrier.
The drone will refuel other carrier aircraft, dramatically increasing their range and ability to stay in the air.
The MQ-25A will hit the fleet in 2024.
The U.S. Navy's MQ-25A Stingray drone flew for the first time last month, marking a major step toward integrating it into the carrier air wing of the future. The Stingray isn't the first drone the Navy has flown, but it will be the first to regularly fly off a carrier flight deck. The aircraft will refuel other planes, extending the range of aircraft like the Super Hornet and Lightning II.
The flight test, according to USNI News, took place at MidAmerica regional airport in Mascoutah, Illinois. The flight, which lasted for two hours, was under the control of Boeing test pilots.