The bomber involved in Tuesday's fatal crash in Connecticut never made it to war, but served as a search and rescue plane and water bomber.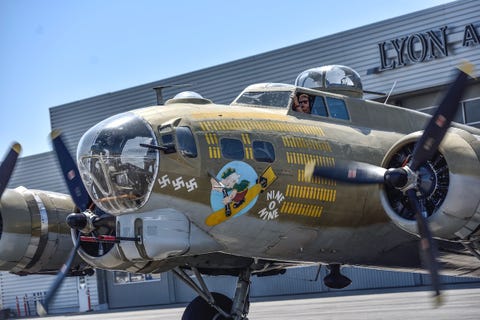 The original Nine-O-Nine was a decorated veteran of the air war over Europe.
The second plane served as a water bomber and nuclear test target.
The restored "Nine-O-Nine" crashed in 1987 and was subject to an extensive rebuilding.
Nine-O-Nine, the B-17 bomber involved in yesterday's tragic crash in Connecticut, was built too late to serve in World War II, but was later rebuilt to resemble the original Nine O Nine, a veteran of the bomber campaign over Europe. The aircraft had a long postwar career, including a stint as a target in nuclear tests, before a lengthy rebuilding process restored her to flying condition. The bomber did have a close call in 1987, when a landing mishap severely damaged the aircraft.
The original Nine-O-Nine was a Boeing B-17G "Flying Fortress" bomber. Nearly 13,000 B-17s were built over the course of World War II, serving in both the Pacific and European theaters. Each four-engine bomber had a crew of ten, a top speed of 287 miles an hour, and could carry a payload of 4,500 bombs on a long distance bombing mission.