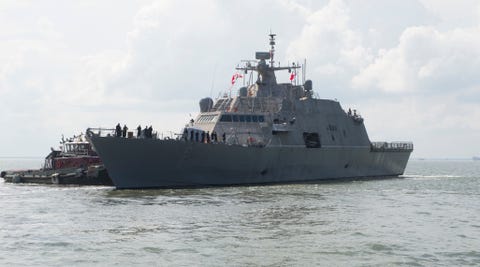 U.S. Navy photo by Seaman Dawson Roth
USS Little Rock will receive a laser weapon during an upcoming deployment.
The new laser is five times more powerful than the first laser, deployed five years ago.
The laser is probably strong enough to seriously damage small vehicles but is dependent on atmospheric conditions.
One of the U.S. Navy's newest and smallest warships is the latest to receive a laser weapon system. The USS Little Rock, which made the news last year after being trapped in Canada by ice, will get a laser during an upcoming deployment sometime this year. The laser is one of the most powerful military lasers yet and should give it the ability to damage or destroy small boats, drones, and aircraft.
According to U.S. Naval Institute News, defense contractor General Dynamics will install a 150 kilowatt laser weapon system aboard the littoral combat ship USS Little Rock. The ship is based in Mayport, Florida and will likely join the Navy's 4th Fleet, responsible for Central and South America.