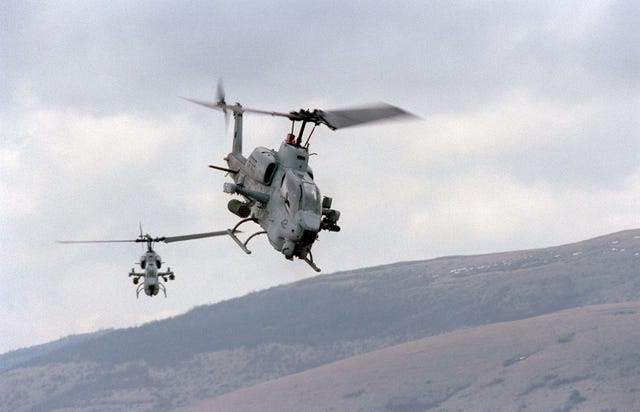 The U.S. Marines have fully retired the AH-1W Super Cobra, or the "Whiskey Cobra."
The replacement, the AH-1Z Viper, is also known as the "Zulu."
The two helicopters are similar, but the Zulu incorporates many improvements, including the ability to fly in poor weather.
The U.S. Marine Corps recently completed its transition from the AH-1W Sea Cobra attack helicopter (above) to the new, improved AH-1Z Viper. The choppers share a common lineage dating back to the Vietnam War, and in some cases, also the same airframe.
The new "Viper" includes new propulsion, fire control, and sensor improvements, but the mission is the same: provide devastating close air support to Marines on the ground.
The U.S. Army developed the AH-1 "Cobra" attack helicopter in the 1960s as a dedicated helicopter escort and close air support platform for use in Vietnam. A small, thin, single-engine variant of the ubiquitous UH-1 "Huey" helicopter, the Cobra soldiered on well into the Cold War with the Army before being replaced with the AH-64 Apache.