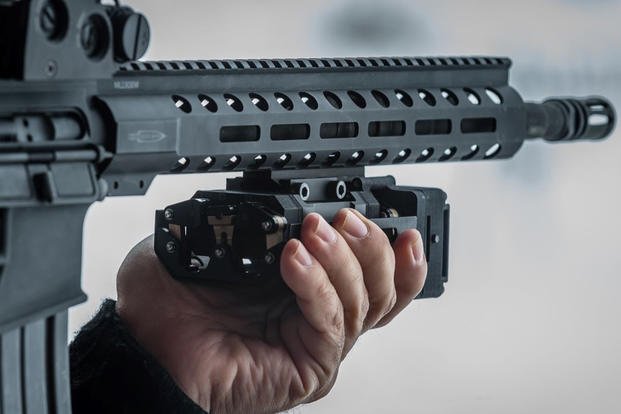 One day soon, U.S. infantrymen could go into battle with Next Generation Squad Weapons equipped with a compact, mechanical stabilizer designed to drastically improve accuracy, especially when shooting from a standing, unsupported position.
The aim control enhancer, or ACE, was once under consideration to be part of U.S. Special Operations Command's now-defunct "Iron Man" suit program. Now, the device is being evaluated as part of the NGSW effort.
The ACE device mounts to the weapon's Picatinny rail system. The shooter grips the ACE with the non-firing hand, much like a rifle foregrip. Once activated with the push of a button, the device is designed to compensate vertically and horizontally for even slight movements from the shooter's body, keeping the muzzle on target.
Peter Rowland, a spokesman for the Army's Project Manager Soldier Lethality, confirmed that NGSW program officials are looking at the ACE and many other products and concepts that could possibly add to the NGSW's effectiveness.
"The program is looking at anything and everything in a variety of different aspects, whether it's trigger or barrel technology, and this is just another one of those," Rowland told Military.com.
The Army is in the final phase of evaluating 6.8mm NGSW rifle and auto rifle prototypes made by Textron Systems, General Dynamics Ordnance and Tactical Systems Inc., and Sig Sauer. The service hopes to select a winner and start replacing the 5.56mm M4A1 carbine and the M249 squad automatic weapon in infantry and other close-combat units in 2022.