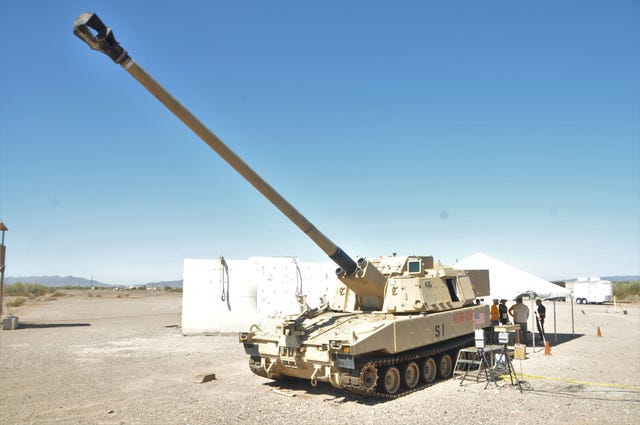 The U.S. Army has dramatically increased the range of its howitzer guns, setting a new distance record.
In a new test, the Extended Range Cannon Artillery (ERCA) gun fired a precision-guided shell to a range of 43 miles, or enough to shell Washington D.C. from Baltimore. The Army says the gun now holds the world record for precision strikes … but a new Russian howitzer could soon challenge that.
The Army conducted the test, according to Defense News, at Yuma Proving Ground in Arizona, firing an M109A7 Paladin Integrated Management (PIM) howitzer fitted with a longer, 58-caliber gun. (In field artillery, "caliber" refers to the length of the gun barrel and not the diameter of the bore. The 155-millimeter diameter of the barrel is multiplied by 58 to determine the overall length of the barrel, or 29.49 feet.) A longer barrel allows expanding gases triggered by the shell powder to act upon the projectile for a greater period of time, increasing velocity.