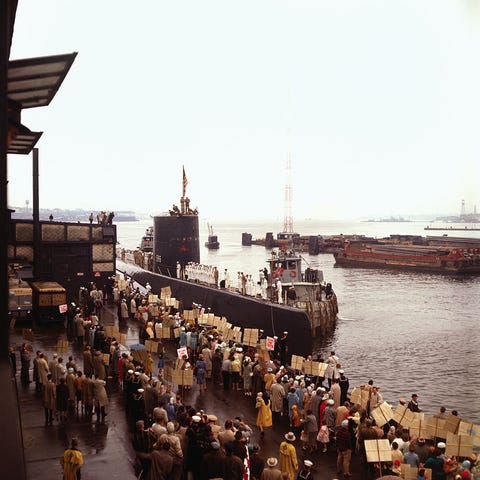 For much of their history submarines have spent most of their time on the surface, only submerging to make attacks.
But the arrival of nuclear power allowed a submarine to stay underwater indefinitely.
Operation Sandblast demonstrated to the world that submarines could now spend an entire patrol underwater.
In 1960, the U.S. Navy conducted a landmark exercise in the history of submarine warfare. The nuclear powered submarine USS Triton circumnavigated the globe completely underwater, proving that submarines—which until then had spent much of their time on the surface—could now operate completely submerged.
It was all thanks to nuclear energy, which provided unlimited power to submarines.
One surprising fact about submarines is that for decades they spent more time on the surface of the ocean than underneath. From the earliest subs to those built in the immediate postwar years, submarines were powered by air-breathing diesel engines. Submarines would cruise on the surface, searching for targets, and then submerge and operate off lead acid batteries to make their torpedo attacks. Submarines were built to be faster on the surface of the water than under the surface, typically making 20 knots surfaced and only about 10 knots submerged.