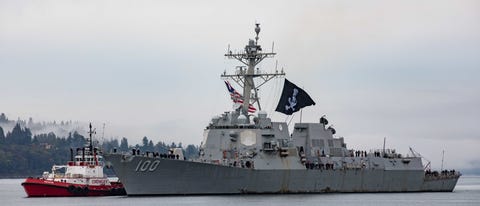 U.S. Navy photo by Mass Communication Specialist 3rd Class Ethan Soto
The guided missile destroyer USS Kidd was recently spotted flying a Jolly Roger flag.
The flag is a nod to Rear Admiral Kidd's nickname, "Cap," itself a reference to the notorious Captain Kidd the pirate.
The Navy destroyer is adorned with the skull and crossbones of the Jolly Roger, from the flag to steel doors.
Keen observers spotted the guided missile destroyer USS Kidd earlier this week flying the Jolly Roger pirate flag. Not every warship can get away with flying a flag associated with piracy and lawlessness, but the USS Kidd isn't any ordinary warship. The story, as The War Zone explains, goes all the way back to Pearl Harbor.
In early December 1941, Rear Admiral Isaac Kidd was the commander of Battleship Division One at Pearl Harbor, Hawaii. During the Japanese attack on Pearl Harbor on December 7, 1941, Kidd quickly went to the bridge of his flagship, USS Arizona, to take charge of his battleships. Kidd, along with 1,176 other sailors and Marines, was killed when the Arizona sank under multiple bomb and torpedo hits. His body was never found.