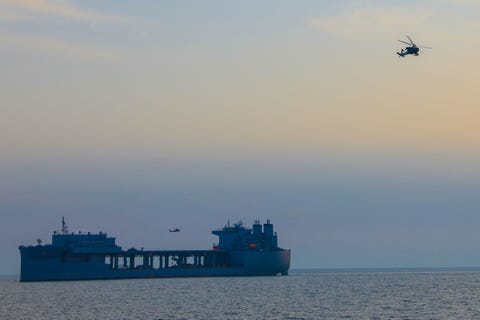 U.S. Army photo by Spc. Cody Rich
The sea base USS Puller is acting as a base for Army Apache attack helicopters.
The helicopters could use the ship as an outpost to counter swarms of Iranian boats.
The same concept was used in the 1980s in a little known operation known as Prime Chance.
The U.S. Army and Navy are working together to send a not too subtle message to Iran. Army Apache Guardian helicopters are practicing flying off the USS Lewis Puller, an expeditionary landing base ship stationed in the Persian Gulf.
The Lewis Puller can refuel and rearm attack helicopters, setting the services up for the same kind of joint military operation last performed in the mid 1980s under Operation Prime Chance. The Apaches, part of the Army's Task Force Saber, spent the month of March operating from the unique warship.
The combination of the Apaches and Lewis Puller creates an improvised attack helicopter carrier, capable of launching attacks against targets on shore or at sea. The Lewis Puller is based on the Alaska-class double hulled oil tankers, which have a 1.3 million barrel capacity in their unmodified configuration. The expeditionary sea base (ESB) ships add a flight deck—the third largest after aircraft carriers and amphibious assault ships—that can handle four helicopters at once.