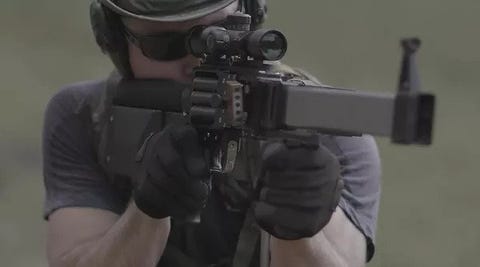 The U.S. Army has ordered a prototype of a weapon designed in a garage in Colorado Springs. The weapon is electrically fired, has four barrels and can fire all four rounds at once in a single devastating salvo.
The weapon was developed by inventor Martin Grier and sports four vertically stacked barrels encased in a single block of steel, an electric actuator firing system, four-round blocks of ammunition, according to the Colorado Springs Gazette. None of these three features are incorporated into current small arms, although heavier weapons such as the M61 Vulcan 20-millimeter Gatling gun and M134 Gatling gun are both electrically fired.
The first rifle weighs 6.5 pounds, impressively light considering it has four barrels. The Army's M4 carbine, by comparison, weighs approximately 7 pounds. Much of the weight savings appears to come from the fact that, unlike other carbines and rifles, it lacks an operating system utilizing a heavy steel piston or bolt carrier group to cycle and fire the weapon. Instead, the weapon uses electromagnetic actuators to fire the four blocks of ammunition.