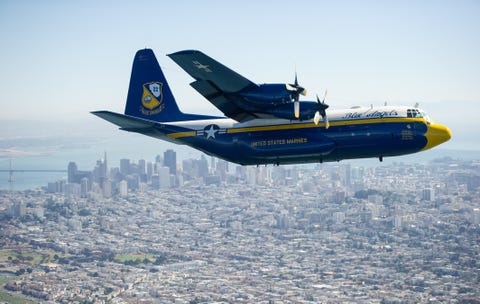 The U.S. Navy's Blue Angels flying team is getting a new sidekick—one procured from "across the pond". Fat Albert, the C-130T that flies to air show locations with the rest of the team, is being replaced with a newer C-130J recently retired from the Royal Air Force. The new Fat Albert will have a longer range and greater carrying capacity, allowing it to carry more of the team's equipment.
As reported by The Aviationist, the U.S. Navy's aviation department, NAVAIR, has signed a $29.7 million dollar contract to buy a used C-130J from the United Kingdom's Ministry of Defence. The U.K. declared the aircraft surplus, replacing them with the Airbus A400M Atlas military transport.
The old Fat Albert, a C-130T Hercules transport, flew more than 30,000 hours in support of the Blue Angels and was retired in May 2019. The Navy doesn't have another C-130T and cast about for a replacement. Navy and Marine Corps C-130s will continue to temp as the Blue Angels support aircraft until 2020 when the ex-RAF jet will be ready.