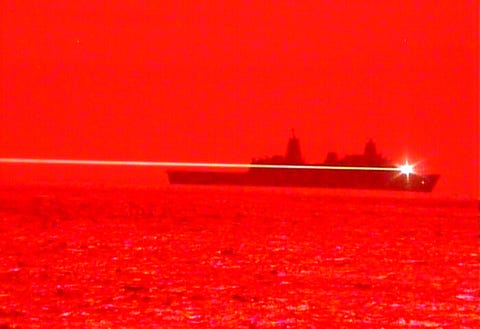 The U.S. Navy released a video of its newest, most powerful laser in action, destroying a target drone in mid-flight. The MK 2 MOD 0, also known as the Solid State Laser—Technology Maturation Laser Weapon System Demonstrator (LWSD), is mounted on the amphibious ship USS Portland. The LWSD is likely the most powerful and destructive laser to go to sea.
The LWSD was developed by the Office of Naval Research and Northrop Grumman, and fitted to the amphibious transport dock USS Portland. LWSD has an output of 150 kilowatts, making it up to five times more powerful than other Navy lasers.
The Laser Weapon System (LaWS), deployed on the USS Ponce in 2014, had a reported output of 30 kilowatts, enough to shoot down small drones.
The Optical Dazzling Interdictor, Navy (ODIN) laser, recently fitted to the guided missile destroyer USS Dewey, is designed to shoot down drones and disrupt electro-optical sensors, meaning it is probably about as powerful as LaWS.
The MK 2 MOD 0 has an output of 150 kilowatts, a huge leap in power output over previous laser weapons. A video released by the Navy shows the laser destroying an unmanned drone in midair.