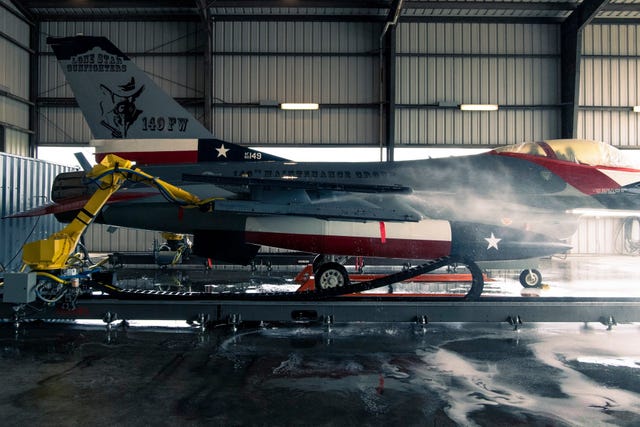 The Air Force built a robot that can wash an F-16 fighter jet in just 1 hour.
It typically takes a crew of four airmen up to 6 hours to do the same job.
The Jet Washing Robot could also save airmen from possible chemical agent exposure.
The U.S. Air Force has unveiled a new robotic arm that's designed to cut down on the time and manpower needed to clean a fighter jet.
The arm can fully wash an F-16 Viper fighter jet in just 1 hour, saving major time and manpower. The technology will likely be ported to other aircraft, and could be useful to decontaminate aircraft exposed to dangerous chemical agents.
Texas National Guard's 149th Fighter Wing recently demonstrated the arm at Joint Base San Antonio-Lackland. Air Force images show the large robotic arm washing the Lone Star Gunfighters' F-16 equipped with drop tanks.