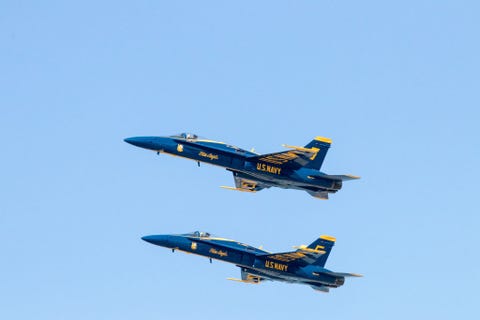 The Blue Angels are getting new jets for their 75th anniversary—kind of.
The Navy's flight demonstration team will move from the older F/A-18C Hornet to the newer F/A-18E/F Super Hornet for the 2021 flight show season.
Pilots and engineers are already at work exploring what modifications are necessary for the Super Hornet to take over the job of entertaining millions of spectators at air and naval shows.
The Blue Angels got started in 1946 and have flown a variety of planes, from the Grumman F-6F Hellcat to the current F/A-18 Hornet. The Blues typically fly whatever aircraft is the mainstay of the American aircraft carrier fleet at the time. Super Hornets are the most recent upgrade of the F/A-18, which has been flying with the Navy in some form for 35 years. The Super Hornets joined the fleet in the late 1990s and will continue to fly from aircraft carrier flight decks into the 2030s, so it makes sense they'd become the plane of the Angels.