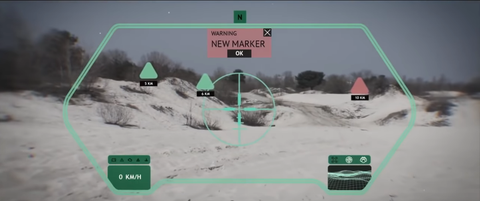 New technology promises to give tankers an unprecedented view of the battlefield around them—without exposing them to lethal enemy fire. Camera systems, often linked to VR headsets, can provide soldiers with a real-time view of the world outside their tank, eliminating the often severely restricted view tankers are forced to fight with.
Tanks are large, lethal, imposing beasts, surrounding their crews with layers of thick steel, composite, and even uranium armor. All of that protection makes it hard to see outside the tank, however, and tankers usually must rely on small vision ports to make sense of things. Seeing to the tank's flanks and rear is particularly difficult, an often unnerving prospect because those are areas where a tank's armor is thinnest.
New tech borrowed from fighter jets promises to change that. One of the F-35 Joint Strike Fighter's most fascinating features is its so-called Distributed Aperture System, or DAS, which uses a network of infrared cameras on the outside of the F-35 to provide the pilot with views in all directions—including behind the cockpit and straight down through the cockpit floor. This provides the pilot with greater situational awareness in training and combat.