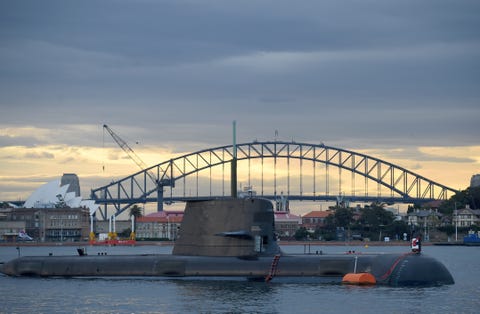 The Australian Navy is researching cold spray, a form of additive manufacturing, to repair submarines.
The tech blasts surfaces with tiny bits of metal at high speed, binding it to a surface.
The process could keep submarines out of shipyards and at sea where they're needed.
The Royal Australian Navy is investigating so-called "cold spray" technology to repair its six Collins-class attack submarines (pictured above). The tech would allow the service to repair parts on submarines, even the pressure hull, while still at sea. A form of additive manufacturing, cold spray could revolutionize shipboard repairs aboard subs worldwide.
Cold spray involves blasting a damaged metal surface with a supersonic gas filled with metallic particles. The particles fuse with whatever surface it's sprayed upon, forming a buildup of solid metal. The technique takes its name from the fact that, unlike repairs done with welding, the fusing is done far below the melting point. Here's a video demonstrating cold spray released by ASC, the Australian government organization that builds and maintains the country's submarine fleet.