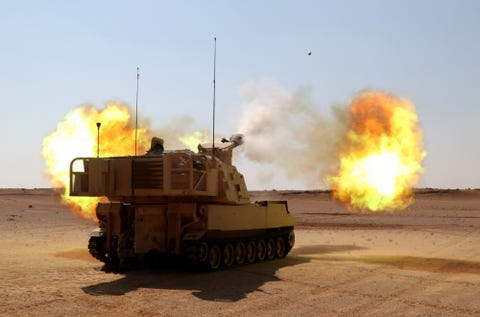 U.S. Army photo by Staff Sgt. Matthew Keeler
The Army is developing a long range cannon with a range in excess of 1,000 miles.
The Army wants a prototype by 2023.
The cannon, along with Army hypersonic missiles, will allow the service to strike targets far behind enemy lines.
---
The U.S. Army is pushing ahead with plans to field a cannon with an astounding 1,000-mile+ range. The cannon, along with hypersonic weapons, will allow the service to attack long range, strategic-level targets far beyond the reach of existing Army systems.
According to Defense News, the Army's program manager for long range fires, Col. John Rafferty, the service expects the gun to have a range of 1,000 nautical miles—or 1,150 statute miles. The technology behind the cannon is described as "cutting edge" that's so advanced that the service is not sure if the gun would be affordable.