My favorite aircraft of all time gets some needed upgrades.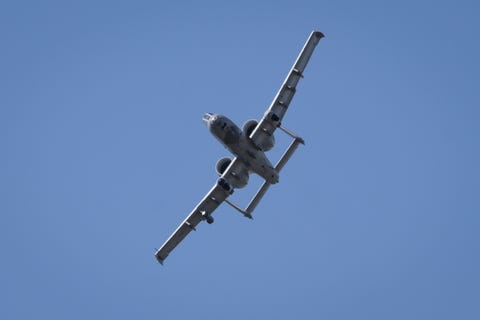 Smith Collection/Gado
Getty Images
The A-10 Warthog ground attack jet, already in the process of receiving new wings, is also set for a series of improvements including new weapons, cockpit upgrades, and helmet-mounted controls.
The improvements, as described by Combat Aircraft, are part of the A-10 Common Fleet Initiative. The improvements include standoff bombs that destroy enemy air defense systems at a distance, allowing the Warthog close in and destroy enemy tanks up close.
The initiative will keep the Warthog relevant as a tank-killing ground attack aircraft, even as the air defenses of high tech adversaries become deadlier than ever. One of the most important is the incorporation of the GBU-39 Small Diameter Bomb. The GBU-39 is a 250-pound high explosive bomb fitted with wings and a guidance system, allowing it to engage individual ground targets at ranges up to 40 miles. According to Combat Aircraft, the Warthog can carry up to 18 GBU-39s, theoretically giving it the ability to engage up to 18 different targets.