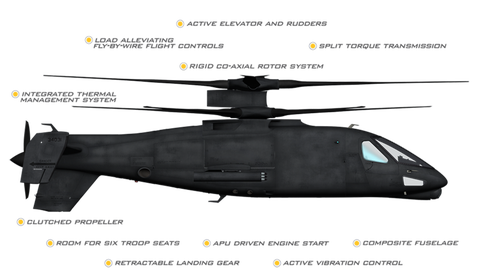 The U.S. Army seeks a new armed reconnaissance helicopter that will range across the battlefield, acting as the eyes and ears of commanders on the ground. Planned for an introduction in the 2020s, the Future Armed Reconnaissance Aircraft (FARA) would give the Army back a capability it lost when the service put its scout helicopters out to pasture.
In the mid 2010s, the U.S. Army retired its fleet OH-58D Kiowa Warrior scout helicopters. The two person OH-58D acted as an aeroscout, locating and identifying enemy forces for its bigger siblings, the AH-64 Apache attack helicopters, to sweep in and destroy. The OH-58Ds were removed from the Army inventory, through some of them still serve on in the Croatian Air Force.
Now the Army wants a new scout aircraft. According to Breaking Defense FARA most likely would serve in new squadron-sized units, meaning a group of 24 to 30 aircraft. These new air cavalry squadrons would provide Army corps commanders with their own recon capability, ranging out and locating threats before they close with friendly troops on the ground. To be forewarned is to be forearmed, and knowing the locations of enemy forces will help ground commanders make critical decisions about their own forces.