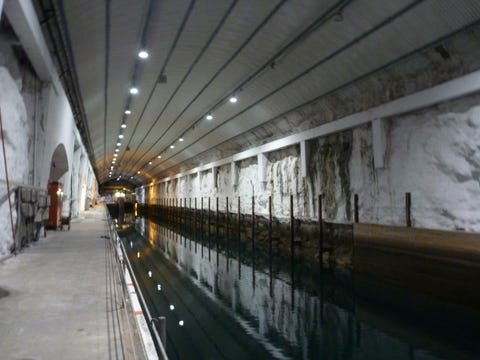 The U.S. Navy could start keeping its submarines at a former Norwegian naval base. The base, located at Olavsvern in northern Norway, is built under a hill resting alongside the Norwegian Sea, with a large entrance capable of admitting ships and submarines. The underground facility could prove a useful staging area for American submarines spying on Russia's Northern Fleet, hiding them from prying eyes.
The Navy is pressuring the Norwegian government to allow it to access the Olavsvern, according to the Norwegian news network NRK. Occupying the base would make it possible "for the [American] attack submarine to quickly go to sea if an emergency situation should arise," NRK says. The network reports U.S. Navy submarines already use nearby Malangen for crew swaps and taking on supplies.
The Norwegian military first developed Olavsvern in 1963, then spent 30 years and $500 million completing it. The base features enough room for ammunition depots, fuel depots, workshops, barracks, a deep water berth, dry dock, and even an emergency power system.