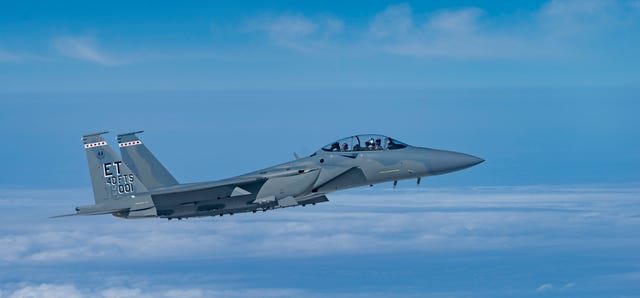 U.S. Air Force photo by Tech. Sgt. John McRell
The U.S. Air Force has officially announced the name of its next-generation F-15 Eagle fighter … and it's about what you'd expect.
The new F-15EX fighter will go by the name "Eagle II," a sad, unexciting name that misses the opportunity to inspire a new generation of pilots. Now, half of the Air Force's fighter fleet by type, including the F-35 Lightning II, consists of sequel jets.
The newest aircraft in the #AirForce fleet has been christened the F-15EX Eagle II. The Eagle II includes the latest mission and software capabilities, such as an advanced electronic warfare upgrade also fielded on F-15E models. #AirPower #Aircraft #Innovation pic.twitter.com/oaJoPihJA1

— U.S. Air Force (@usairforce) April 7, 2021