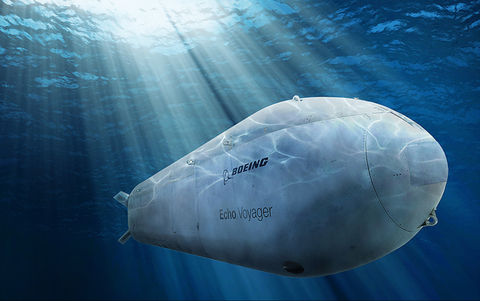 The U.S. Navy has awarded a contract to Boeing for four Extra-Large Unmanned Underwater Vehicles (XLUUVs). In other words: giant drone subs.
The unmanned submarines, called Orcas, will be able to undertake missions from scouting to sinking ships at very long ranges. Drone ships like the Orca will revolutionize war at sea, providing inexpensive, semi-disposable weapon systems that can fill the gaps in the front line—or simply go where it's too dangerous for manned ships to go.
The contract, announced today, stipulates Boeing will get $43 million for "fabrication, test, and delivery of four Orca Extra Large Unmanned Undersea Vehicles (XLUUVs) and associated support elements." That's just over ten million bucks per boat.
What does the Navy get? A lot.
The Orca is based on the Echo Voyager technology demonstration sub. That boat is an unmanned diesel electric submarine launched and recovered from a pier. It has a range of 6,500 nautical miles and can run completely alone for months at a time. It measures 51 by 8.5 by 8.5 feet and has a weight "in the air" of 50 tons.
The sub features an inertial navigation system, depth sensors, and can surface to get a fix on its position via GPS. It uses satellite communications to "phone home" and report information or receive new orders. Echo Voyager can dive to a maximum depth of 11,000 feet and has a top speed of eight knots.