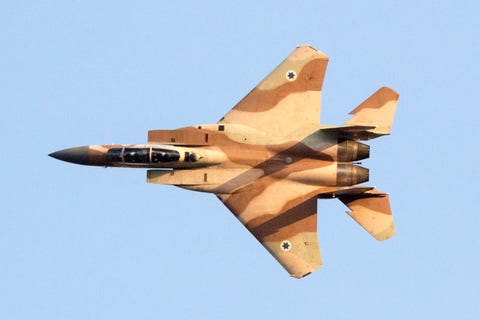 The Israeli Air Force would rather buy more F-15 Eagle fighters than the latest and greatest F-35 Joint Strike Fighter. It may be an older plane, but the F-15 apparently offers Israel more flexibility, particularly when striking its mortal enemy: Iran.
According to Aviation Week & Space Technology, Israel is dividing its airpower into two categories: jets that can strike targets just over the border in Lebanon and Syria, and jets that could hit distant but important targets such as Iran's nuclear program. Israel has the F-35 for the former task, and it is building a strike force of F-15s for the latter. Although the F-35 Joint Strike Fighter has stealth and sensors capable of picking up targets on the ground, it doesn't have the range to strike targets up to a thousand miles away in Iran.
Israel has had a nearly 40-year love affair with the F-15. It was one of the first countries to receive the Eagle and was the first to use it in action. The F-15 provides an impressive combination of power and range, allowing Israel to strike targets beyond the reach of most air forces. And because it's a large fighter, it has room to add new systems as necessary. Israel's defense industry has a long history of supporting the aircraft and creating upgrades to give the country's Eagles a decisive edge.